Boarding Process
Apply
Apply using the vehicle reservation application form.
1 month to 5 days before the ride date.
Please fill out the application form and submit it.


※If you wish to cancel your reservation, please use the URL in the reservation confirmation e-mail to go to the cancellation page and cancel your reservation.
※Reservations must be cancelled by 6:00 a.m. two days in advance.
Final information on reservation details
3 days before the ride date
A final information email will be sent after the reservation deadline. The final information email will contain the details of your reservation at the time of application, as well as the location of the boarding door, bike rack number, etc. Please check this information.
Day of boarding
Meet at the boarding station and purchase tickets.
Higashi-Toyama Station(West Exit) by 9:10 Namerikawa Station by 9:20
Please purchase your ticket (1,000 yen) at the ticket counter of the station before the scheduled time (Higashi-Toyama Station(West Exit) by 9:10, Namerikawa Station by 9:20).
Please wait on the platform in accordance with the position of the boarding door indicated in the final information email sent in STEP 2. While waiting for the train, please wait inside the yellow Braille blocks. When the train arrives, please board the train with the odd-numbered bike rack number first.
Boarding route for each station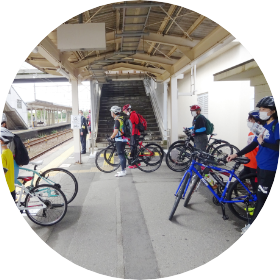 Boarding and loading the bicycles onto the bike rack
After the train arrives, please secure your bicycle to the designated bike rack. Please note that depending on the shape and size of your bicycle, it may not fit properly, even within the designated size. In this case, please hold your bicycle by yourself.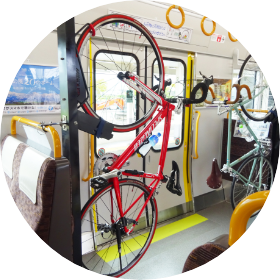 After arriving at the station, remove your bicycle from the bike rack. For safety reasons, please do not remove your bike until the train has come to a complete stop.
Please have your ticket ready at the exit. A station attendant will stamp your ticket to commemorate your ride.
How to get from the drop-off station to the model course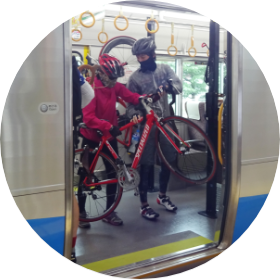 Cycling along the model course
Please enjoy the scenery of Toyama while cycling. Please follow the actual traffic regulations and directions.
How to return to the boarding station from the model course